What is your worst money fear? Mine is the possibility of running out of money as I get older. I definitely associate money with security.
Growing up, I felt like we were constantly getting messages from my Mom that we were one meal away from starvation. My Dad on the other hand, was always generous. Of course, we asked for money, mostly for clothes and for the movies in those simpler days before video games and cellphones.
But like many families, we never actually talked about money…ever…I had no idea how much my Dad made, where he invested it or how much my parents were spending.
After I got married, somehow money was never on my radar. It was some kind of a weird defense mechanism. My husband managed our finances and I was perfectly content to let him do so. I never kept to a budget and spent on things that brought me pleasure without much thought. However, we never lived beyond our means, buy anything that we could not afford or have any credit card debt, thanks to my husband!! I dreamed of winning the lottery like everyone else, thinking that was the only way to "buy happiness".
For some reason, I never made the connection between money and the feeling of security and freedom it can bring.
Studies have shown that happiness related to money plateaus once basic needs are met, and the amount often quoted is around 60-75,000 dollars.
Later on, as I went through burnout at work, I remember being very stressed about money. I felt a huge sense of responsibility to support my family as I was the primary breadwinner. I had no idea how much we really needed to save before I could quit. Somehow the two ideas were completely disassociated.
I think the majority of the population still has false beliefs about finance. We have to work to bring in a paycheck and for health insurance. We keep doing this until the magical age of 65. Of course, more Americans are now working way past traditional retirement age due to not saving enough and not planning adequately for retirement. 
Now I look back and think about how much time I wasted stressing about something that I didn't need to. I recently learned about what it really means to be financially independent. There is a formula for knowing if you have saved enough to retire. Who knew?
Basically, if you save about 25-30 times your annual spending AND invest it, you should be able to stop earning a paycheck if you want.  There are more people now "retiring" early, even as young as 30.  It is called the F.I.R.E movement (Financially independent, retire early).  They mostly point out that the "RE" portion is optional.  Once you have enough money, you have the freedom to live life on your own terms.  You may chose to stay in your job if you love it and it brings you fulfillment.  Or you may decide you want to quit the 9-5 grind and blog instead.  Or take a long RV trip.  Or travel all over the world.  Or teach yoga, or volunteer at the animal shelter or create art.  Or spend more time with your young children.  Like I said, the options are really endless.
In order to get there, of course there are some steps.  These are simple and practical but not necessarily easy.  The common theme among the F.I.R.E community is one of getting priorities sorted out.  There is an intentionality to their day to day decisions.  Frugality and minimalism are common themes.  It almost does not seem to matter if you are a high wage earner or not.  If you are able to live below your means, pay off your debts and save as much as you can, almost anyone can achieve this goal.  It is also important to invest what you are saving in a smart way.  These people tend to invest in low cost index funds.  The K.I.S.S principle is very effective in this regard.
There is a sense of singular focus among this group.  They do not try to keep up with the Joneses.  They are happy to drive modest cars, live in modest houses and shop at Goodwill for clothes if need be.  They also do not get tempted and swayed by the vast swirls of financial noise there is out there. 
The first step is to figure out how much you are spending daily, monthly or yearly.  It's akin to keeping a food diary.  You may THINK you are spending a certain amount or eating only so much, but unless you document it, it is not going to be accurate. You can either create a simple spreadsheet or use any number of apps.  I like Expense Manager, but there are tons out there to pick from. Also, when you keep an account, you make more conscious choices around spending habits. 
                If you don't know where you are going, you'll end up someplace else —
Then of course, comes the "shockingly simple math" as Mr. Money Mustache calls it.  Your time to reach retirement depends only on your savings rate, as a percentage of your income.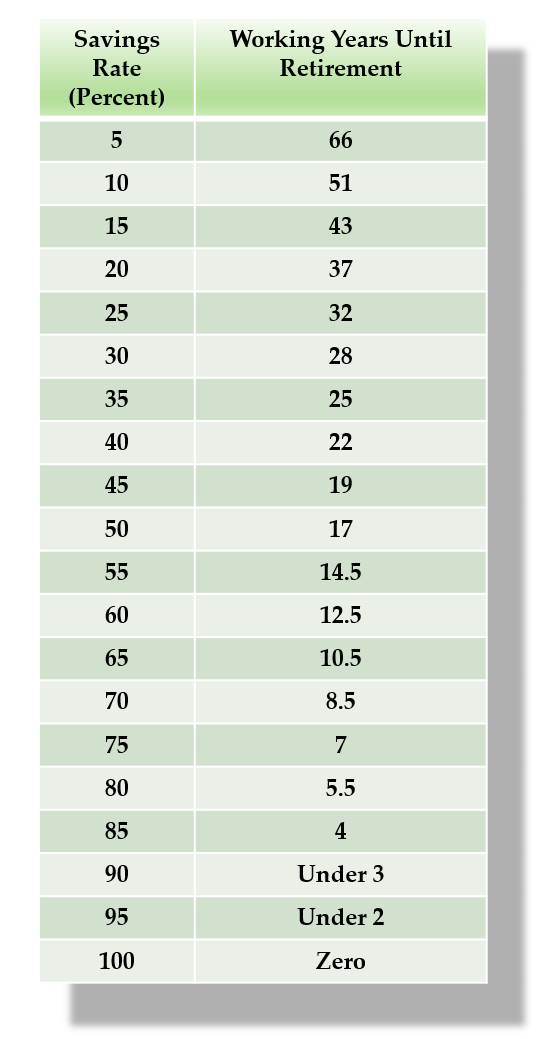 The very best starter book I would recommend is "The Simple Path to Wealth" by JL Collins.
What are your beliefs about money? What were the messages in your family and how did that change once you became an adult? How has it shaped decisions in your life?  
So, are you ready to take steps to attain financial independence?  I know it may take a drastic change in mindset for some people, but I believe it can really be done.